Student Achievements – Physics
Two of our II Year M.Sc. Physics Students namely Akshaya A and Nanthini K have completed the refresher and preparative winter School (RPWS) – 2022 from December 05, 2022 to December 22, 2022 at Thiruvananthapuram.
Akshaya A of II M.Sc.Physics have completed Kodaikanal Winter School at Kodaikanal Solar Observatory organised by Indian Institute of Astrophysics, Bengaluru.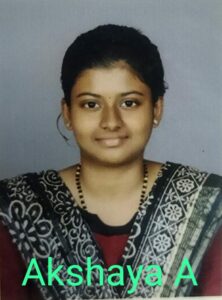 Four of our II M.Sc. Physics namely, Akshaya A, Nanthini K, Gayathri T, Tharani T have attended one week high end workshop on Wearable Intelligent Device: Next Generation Technology by IIITDM, Kancheepuram.

University Gold Medalists
B.Sc. (Physics)
| S no | Year | Name of the Student |
| --- | --- | --- |
| 1 | 2017 | K. JENIFER |
| 2 | 2015 | B. AISHWARYA |
| 3 | 2013 | G. MANGAIYARKARASI |
| 4 | 2012 | S. GOMATHI |
| 5 | 2011 | P. JAYANTHI |
| 6 | 2010 | K. BUVANESWARI |
| 7 | 2005 | K. BUVANESWARI |
M.Sc. (Physics)
| S no | Year | Name of the Student |
| --- | --- | --- |
| 1 | 2013 | V. SNEHAPRABHA |
| 2 | 2011 | M. KIRUTHIKA |
| 3 | 2010 | C. ARULJOTHI |
| 4 | 2009 | K. THEJA |
| 5 | 2008 | N. VIJI |
Rank Holders
Year
Total Ranks (Physics)
B.Sc
M.Sc
2017
5
2
2016
5
3
2015
1
3
2014
4
3
2013
2
6
2012
5
3
2011
6
8
2010
7
5
2009
3
4
2008
2
6