Vice-Principal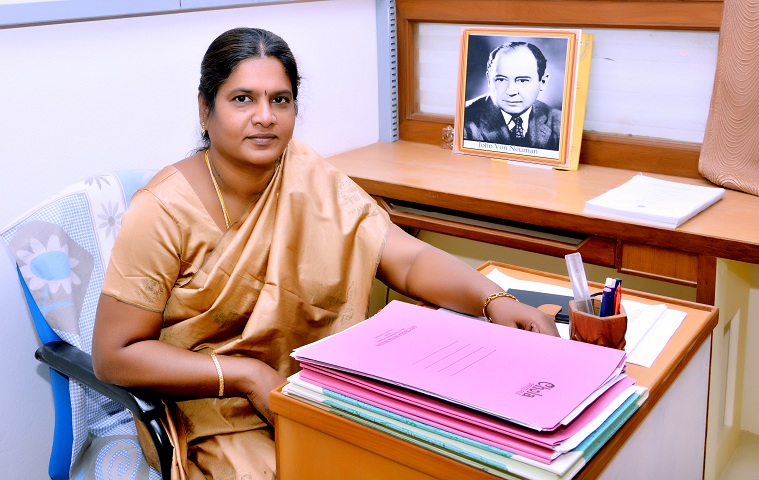 Mrs. S.A. Dhanalakshmi
Department of Mathematics
Dear Parents,
Guardians and well wishers of P.K.R. Arts College for Women as the Vice Principal of P.K.R. Arts College for Women, Gobichettipalayam, I am very fortunate to work with many enthusiastic, innovative and caring staff members, parents and students.  Each day is filled with new experiences, learning for all and the ability to make someone's day better; many days it is the students who make my day a little brighter.
According to me, Education not only gives to us a platform to accomplish something, but also the knowledge of social conduct, strength, character and self respect. The greatest gift education gives us is the knowledge of unconditional love and a set of values. This is education all about in P.K.R. Arts College for Women. The college has established reputation in extra-curricular activities as well as its social outreach to the people in the neighbourhood. The college always tries to impart in the students the academic excellence, a sense of duty, discipline and above all moral and humanitarian values which are the need of the time.
I am proud to be a part of this institution which has brought splendor and has stood firm as rock, an impenetrable castle to carry forward its mission of spreading knowledge to many and playing a stellar role in giving the nation each year a crop of brilliant youth, who have brought laurels to college the country, and the world at large. The Institution holds high the banner of integrity, nationhood, secularism and unity setting an example of selfless service. It is these daily reminders that make our college distinct, unique and special.
Kindly take a moment and visit our college's website.  As always please feel free to contact me with any questions or concerns.
Mrs.S.A.Dhanalakshmi,
Vice Principal